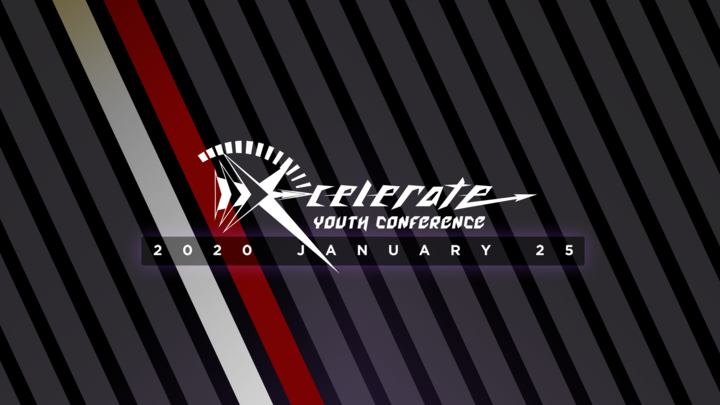 X-celerate Conference 2020
Dates & Times
25 Jan 2020

11:00am - 9:00pm
Attendee Types
General Admission

$5

Pre-approved Volunteer

$5
Details
X-celerate Conference is a life-changing event for teens and youth leaders designed to accelerate your walk with God into a higher gear.
Your breakthrough must begin far before it's seen. David's stone meeting Goliath's head. Jericho's walls falling before an army's shout. Paul surviving a shipwreck and snake bite back-to-back. None of these happened by chance, nor were prepared in one day. And in a world growing darker every day, the kingdom of God is going to need a moment of triumph. Learn how to fight your battles, holding fast to the faith behind the scenes, and preparing for that moment. The moment all hope seems lost. The defining moment. The Plot Twist.
The Experience
During X-celerate Conference you will experience:
Life-changing worship

Dynamic teaching from teens and young adults discipled by 28 year Youth Leader veterans, Bill & Karyn Thompson

A powerful, professionally choreographed live stage drama

Three break-out sessions, plus a special Youth Leader resource session, to equip you with practical tools for life and ministry
Reserve Your Seats Now!
Registration is required because seating limited. Make sure you or your youth group have reserved your spot for the event that will accelerate your faith!
Watch the highlights from last year's X-celerate Conference.
---
FAQs
Is registration required?
Yes, registration is required for everyone for entry to the event, including X-celerate Conference volunteers and X-treme Youth Ministries and New Life Ministries attendees. Volunteers should contact the Conference Director, Karyn Thompson, before registering.
What's included with a registration?
Registration includes one seat in the venue, and one catered dinner during the event.
How do I register? When should I register?
You can register online at xcelerateconference.com. We recommend registering as soon as possible to guarantee your seat in the venue and catered dinner during the event.
Can I register at the door on the day of the event?
Yes, you can register at the door, but registration should be done in advance to guarantee your seat in the venue and catered dinner during the event.
How much does it cost to register?
Registration costs $5.00 per person.
When is the event? How long is it?
The event is Saturday, January 25, 2019 from 11:00 AM to 9:00 PM.
Is this event just for teens? Are there any age restrictions?
Anyone 12 years of age or older can attend. The event is for teens and youth leaders but we encourage youth workers, youth pastors, pastors, senior pastors, and parents to come and be a part of this life-changing experience.
What if the weather doesn't cooperate?
The event will happen rain or snow or shine.
Where is the venue located?
At New Life Ministries, 2800 McKinney Boulevard, Colonial Beach, VA 22443.
How do I get to the venue?
You can get directions to the venue here.
What time should I arrive?
We recommend arriving between 10:00 AM and 10:15AM to get the closest parking spot and best seat inside the venue.
Where do I park? Is there handicapped parking?
Free parking is available in the venue parking lot. Parking attendants will direct you to the closest space. Handicapped parking is available.
What time does the event start? When do doors open?
Doors open at 10:00 AM. The event kicks off at 11:00 AM.
How do I enter the venue?
Through the main entrance located in the covered drive-thru area.
Is the venue handicap accessible?
Yes. The main entrance, conference area, and bathrooms are handicap accessible.
Where do I check-in?
At the check-ins table in the lobby located just inside the main entrance.
What do I need to check-in if I pre-registered?
The first and last name on the registration.
Will there be merchandise for sale?
Yes. X-celerate Conference t-shirts, wristbands, and other merchandise will be available for purchase at the merch table in the lobby.
Can I use a debit/credit card to buy merchandise?
Yes. We accept all major credit/debit cards including VISA, MasterCard, American Express, and Discover.
Are there ATMs at the venue?
No. The nearest ATM is one mile from the venue inside Food Lion.
How can I share my experience?
You can share your photos and videos on Facebook, Instagram, Twitter, and YouTube with #Xcelerate20. Like us on Facebook, watch us on YouTube, and follow us on Instagram @XtremeYouthCB!
---
X-celerate Conference is a ministry of X-treme Youth Ministries at New Life Ministries.